Student Dress Code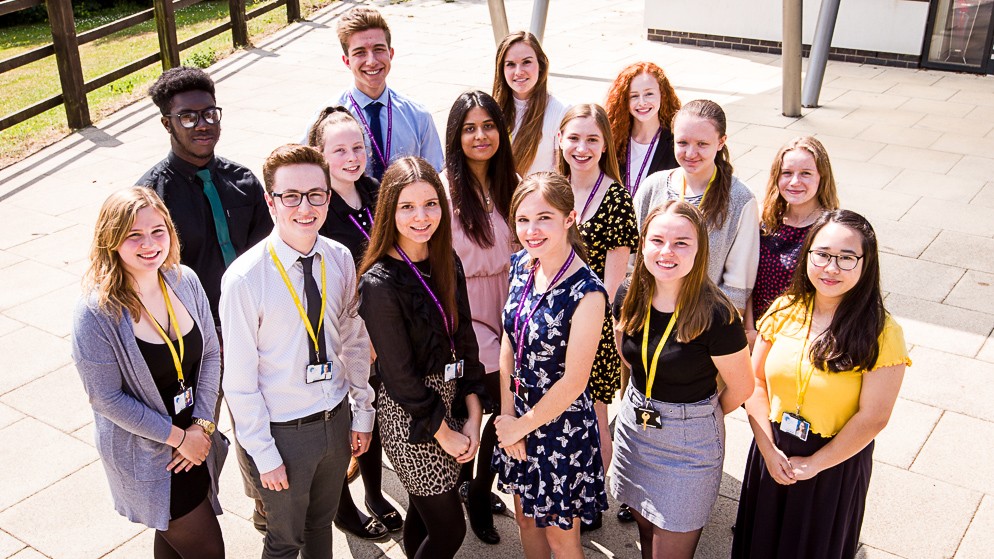 Sixth Form students are expected to dress in business dress appropriate to a professional environment. Any questions about the dress code should be directed to the Assistant Headteacher – KS5, as should any queries about reasonable adjustment on medical or religious grounds.
Hats, jackets and bags
Hats should not be worn inside;
Hoodies and sweatshirts should not be worn;
Jackets if worn inside must be smart. Informal wear such as hooded jackets, body warmers, leather jackets or parkas is not acceptable
Bags displaying pictures, words or logos should not contain anything that could cause offence.
Tops
Shirts should cover the back, midriff, shoulder and chest, showing no cleavage;
Shirts worn by male students should have a collar which should be buttoned;
Shirts worn by female students may be button-less and without a collar but otherwise of professional appearance. Printed t-shirt tops and casual jumpers are not acceptable;
Male students should wear a tie;
Pullovers and cardigans may be worn but must not be excessively loose or obscure the tie.
Trousers and Skirts
Trousers should be smart and professional in appearance. Jeans or jeans style trousers are not acceptable;
Dresses and skirts, if worn by women instead of trousers, should not be excessively short or tight;
Either trousers, skirts or dresses must be worn
Feet
Tights and socks should be discreet in colour and pattern;
Shoes should be smart and provide appropriate protection for the feet;
Trainers and other similar sporting or casual footwear are not acceptable;
Boots may be worn if they are smart and hardwearing. Ugg boots or any other material boots, Timberlands or coloured boots are not acceptable.
Accessories
Belts, buckles and braces or similar, if worn, should be discreet;
Any jewellery should be simple and discreet.
General appearance
Piercings should not be visible, other than in the ears, and to a maximum of one per ear lobe;
Tattoos or body art should not be visible;
Make up and artificial tan should be discreet;
Clothing should be worn in such a way that underwear is never visible;
Denim should not be worn;
Clothes should always be clean, smart, ironed and in a good state of repair;
ID cards should be worn on the Braintree Sixth Form lanyard at all times. ID cards should not be swapped or damaged and should be reported if lost;
Extreme hairstyles and hair dyed in colours which do not occur naturally are not acceptable
Procedures for Dress Code Infringements
| | |
| --- | --- |
| 1st infringement | Spoken to verbally (recorded on SIMS, SSO to Action). |
| 2nd infringement | Comment on SIMS – Dress issue –(recorded on SIMS, SSO to Action). |
| 3rd infringement | E-mail sent home copying in parents/carersMonitoring email sent to all other staff, tutors, Pastoral Manager – KS5 and Head of Year. |
| 4th Infringement or serious infringement | Asked to leave premises to change – email to be sent stating the reasons why. |